"Exhibition"
Selfridges Art Block Comission 2023
London, England
January 11 - October 8, 2023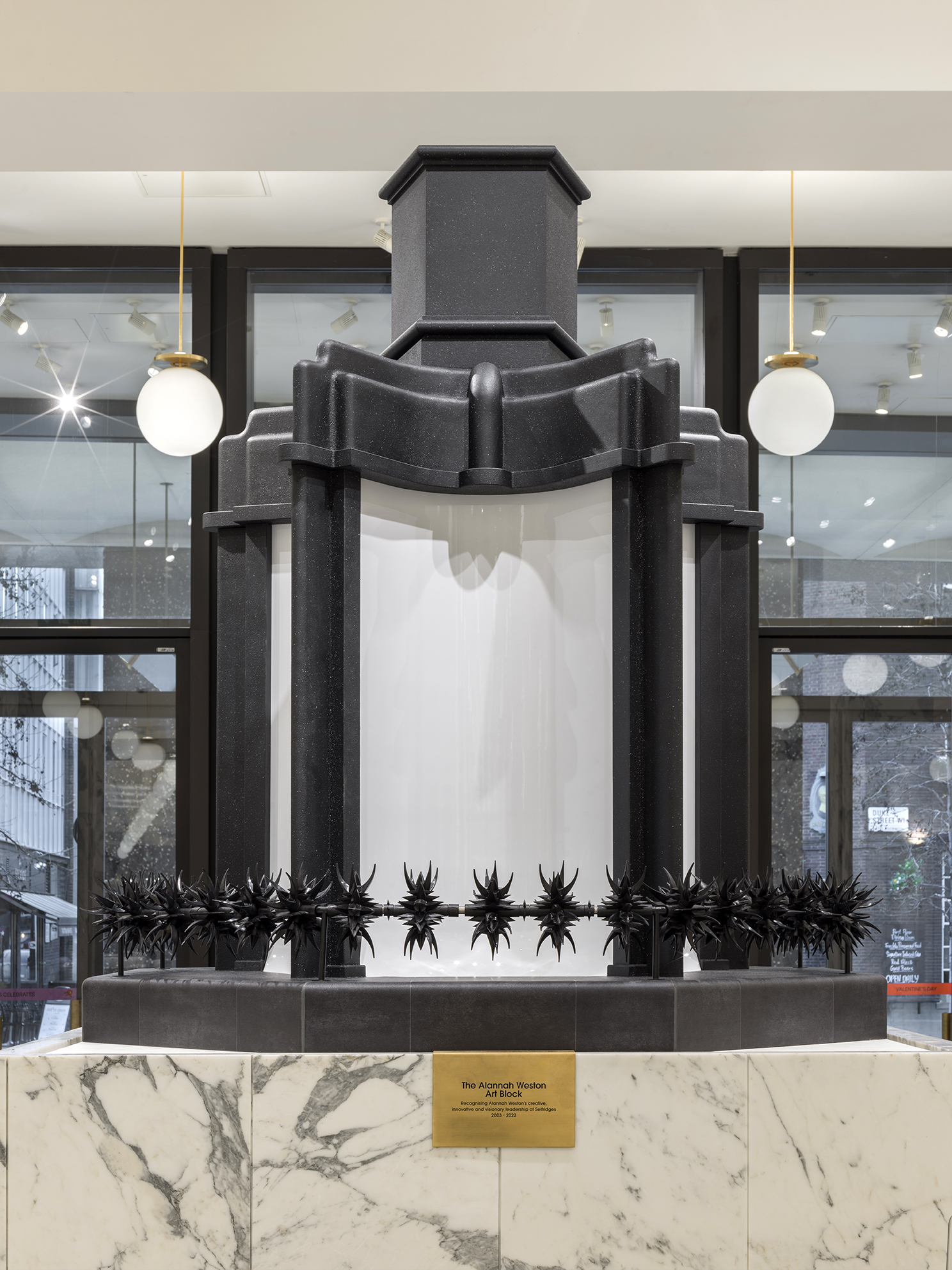 The installation "Exhibition" (2023), spotlights the public restroom as a monument, sanctuary and secret. Evoking the Victorian Gothic style of architecture, the piece references feminist campaigns that equalized access to public sanitation facilities in the 20th century and led to Selfridges being the first department store to open women's public toilets. At the same time, I am interested in the persistence of the public bathroom's sexual connotations, particularly thanks to the major role these facilities have played in the history of anonymous sex between men. Today, these two opposing visions of the purpose of public bathrooms—one that attaches safety and freedom to lack of sexual contact, and another that does the opposite—collide in the "bathroom panic" that remains a consistent point of focus for transphobic speech and legislation. The two vitrines feature walkways divided by applique vanity screens that invite viewers to enter inside the window displays and reflect on the paradox of being alone in public.
One of the centerpieces and recurring motifs is a black wreath constructed out of security spikes, inspired by an anecdote from the sociologist Laud Humphrey's account of cruising in public restrooms,
Tearoom Trade: Impersonal Sex in Public Places
(1970). In this book, Humphreys notes that while the men he witnesses cruising in the bathroom do not develop intimate attachments to the people they have sex with there, some become sentimentally enamored with the space of the bathroom itself. He cites the example of one man who found out that a park bathroom where he met others for sex was to be closed for demolition. On hearing this, the man sprayed a wreath black and laid it on top of the building. As a symbol of mourning, the black wreath marks the loss of public space, cruising sites, and the gay men who populated them through the AIDS crisis. At the same time, the wreath also recalls a very different association: the Christmas period, the annual climax of consumerism, a time often associated with bourgeois normativity. In making the wreath out of security spikes, I invoke the ongoing drama of privatization, securitization, exclusion, and danger that haunts public bathrooms and public life more generally.