Born To Make You Happy, group show at The Residence Gallery London, UK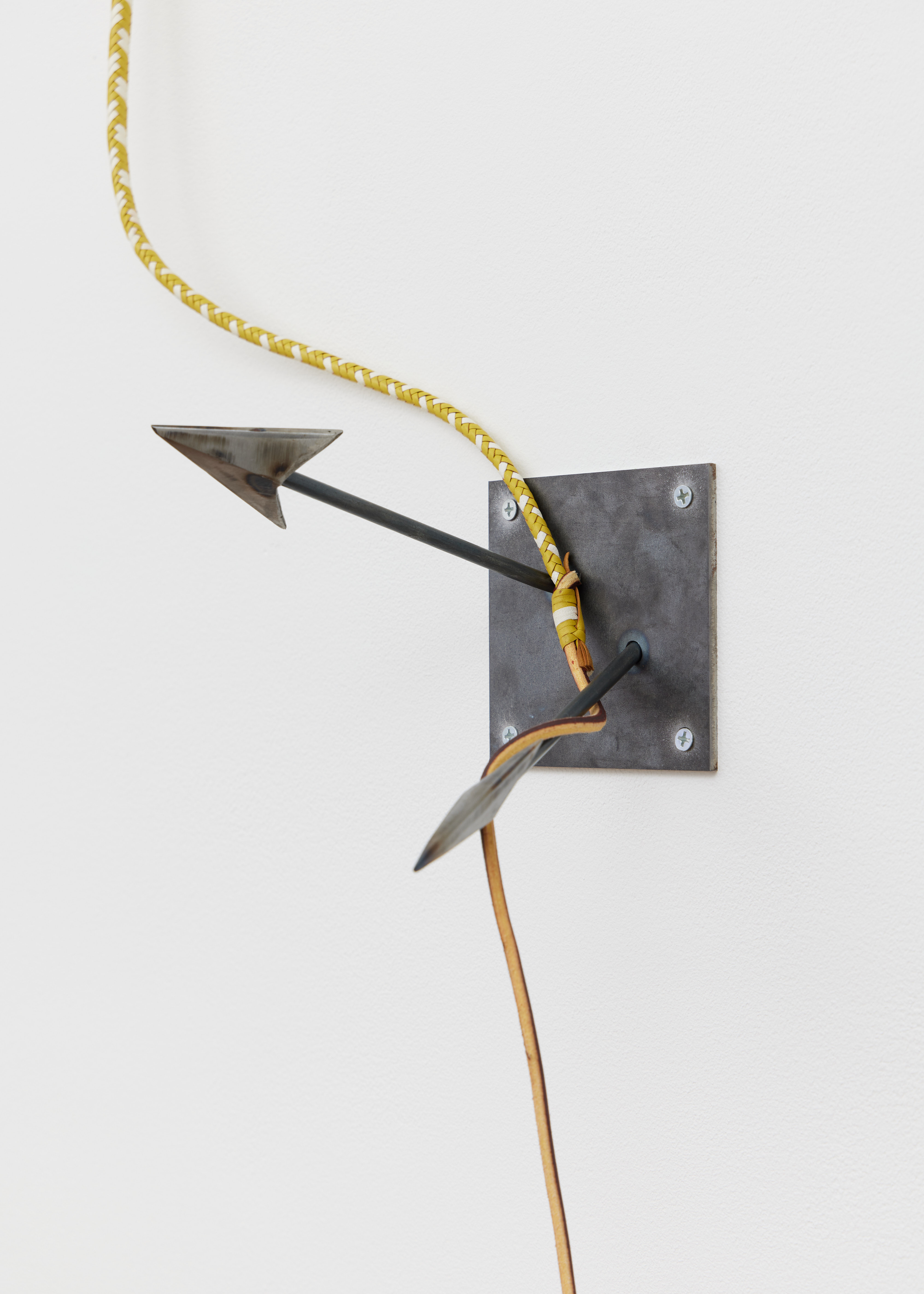 "Prerogative" (2022)
custom leather plaited whip, steel
'Born to make you happy', an exhibition of new works by Débora Delmar, Lucy Evetts, Zoë Marden and Gray Wielebinski, curated by Helen Neven.
Taking as its subject pop star Britney Spears, the exhibition will explore issues of agency, construction of persona and self-coding, freedom and submission through paintings, sculpture and installation that also reflect confessionally on aspects of the artists' own biographies and histories.
The exhibition is accompanied by a limited edition publication.
Britney's 2009 Circus tour was the first event the singer performed under conservatorship. It was also where I first chose to come out as homosexual, more specifically at her performance at the American Airlines Center in Dallas, Texas that year. In the performance's first act, Britney undergoes a transition from circus ringmaster to slave, entering a cage suspended above a ring of fire to perform "I'm a Slave 4 U." Given the form of legal captivity she was enduring, it's striking that the tour explicitly foregrounded the way live performance is haunted by exploitation and servitude.
A ringmaster is identifiable by his whip, a highly overdetermined symbol evoking forced labour, discipline, sadomasochism, fetishism, escalating melodrama, and the brutal enforcement of the human/animal divide. For this exhibition, I wanted to create a custom yellow and white leather signal bullwhip that references both the prop whip used on Britney's Circus Tour as the "ringleader" as well as the infamous yellow snake, a melanistic Burmese python, that Britney donned on her shoulders at the 2001 VMAS. The whip rests on three steel arrows which recreate the iconic pose in which Britney held the snake, which in itself recalls the image of Christ's body hanging on the cross. In pointing at the viewer, the arrows evoke a sense of danger and also implicate them as a spectator and thus collaborator in Britney's tragic fame. Arrows also play a strong symbolic role in relation to martyrdom and saints, particularly Saint Sebastian and Saint Cristina, whose depictions of exalted and romanticized if not outright sexualized suffering have undeniable correlations to contemporary culture's ambivalent obsession with Britney. Meanwhile, through the material of leather, the whip conjures issues of instrumentalisation and control, provoking the question of what it means for the body to become a tool. In doing so, it plays on ideas of fetishism, both in the sense of phallic projection and prosthesis as well as the system of overvaluation on which the phenomenon of celebrity depends.